MWSS website hacked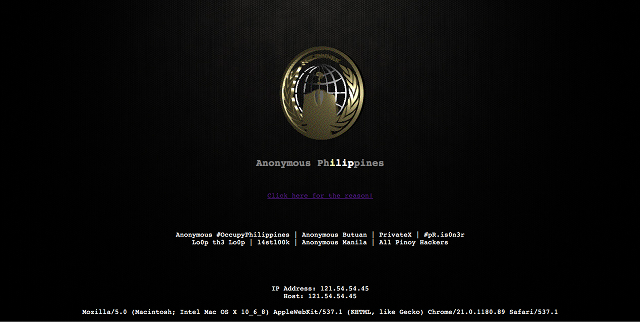 MANILA, Philippines - Several hacker groups on Sunday, September 2, 2012, hacked the official website of the Metropolitan Waterworks and Sewage System (MWSS).
The groups identified themselves as Anonymous #OccupyPhilippines, Anonymous Butuan, PrivateX, #pR.is0n3r. Lo0p th3 Lo0p, l4stl00k, Anonymous Manila, and All Pinoy Hackers.
As of 2:57 pm on Sunday, the MWSS website contained a spinning logo of "Anonymous Philippines," with a link below that instructs visitors to "click for the reason."
The link leads to a YouTube video posted by user "AnonymousButuan" on August 31, 2012.
In the video, the group accused the MWSS, Maynilad Water Services Inc., and Manila Water Co. of cheating customers into paying for two cancelled projects. The group did not specific the projects that they were referring to. The group also alleged that the MWSS has been giving "excessive benefits" to its board members.
"We are fighting for the truth and free speech. People should not fear the government. The government should fear their people," the video said.
"We are anonymous, we are legion, we do not forgive, we do not forget, United as one, divided by none, the corrupt fear us, the honest support us, the heroic joins us, Metropolitan Waterworks and Sewerage System, it's too late to expect us!"
Changes in the MWSS
The MWSS has been on the spotlight recently, after they eliminated the illegal allowances of its employees.
Back in August, it was revealed that the company's drivers had been receiving up to P97,000 a month mainly in the form of bonuses.
"Illegal" bonuses included a birthday and State of the Nation Address bonus.
In an interview on Rappler's #TalkThursday, MWSS Chairman Ramon Alkipala dismissed accusations that the allowances of the agency's board members were "excessive." According to him, it is only a smear campaign in reaction to the reforms instituted by the board, including the slashing of employee benefits.